Fashion App
Description
The eCommerce Fashion Flutter app is a mobile application designed to provide users with a seamless and convenient shopping experience for clothing items. With a user-friendly interface and a wide range of clothing categories, the app aims to cater to fashion enthusiasts and shoppers looking for the latest trends and styles.
Key Features
❖ User Authentication and Registration: Users can create accounts, log in securely, and manage their profiles to access personalized features.
❖ Browse and Search: Users can easily explore a diverse selection of clothing items, organized by categories, brands, or price ranges. A search functionality allows for quick and specific item searches.
❖ Product Details: Each clothing item is accompanied by detailed product information, including images, and descriptions.
❖ Shopping Cart Management: Users can add desired items to their shopping carts, view and update the cart contents, and remove items as needed.
❖ Checkout: The app offers a secure and streamlined checkout process.
❖ User Profile Management: Users can manage their personal information, view, and edit their shipping addresses, and update their preferences.
Architecture and Code Organization
Clean Architecture (MVVM) With Bloc State Management
Folder Structure
Config

app routes, services, cache, and permissions
Language Manager.
service locator (DI).

Controllers

All Cubits and blocs.
Business Logic.

Core

error handlers and exceptions.
extensions and functions.
network information.
uilts (contains app Strings, colors, style, assets, and constants).

Data

Data Source (Remote, Local).
Dio Factory.
Repository Implementation.
Models and Mappers.

Domain

Entities.
Repository Interfaces.
Usecases

View

Screens (Contain All UI Screens, Pages, Own Widgets).
Widgets.
State Renderer.
Screens
Splash.

On Boarding.

Authentication

Registration
Login with E-mail & Password.
Login with Facebook.
Login With Google.
Forget Password.
Logout.

Home

Products List view show freshness clothing items by category.
The profile page contains account information.
The Catalog Page Categorize clothing for men and women.

Search

searching for clothing items by category, brand, or price range.

Categories

show clothing items by category and Filtering items.

Product Details

Each clothing item is accompanied by detailed product information.

Favorites

Contains favorites Products.
Shopping Cart
Add to Cart functionality.
Remove from Cart.

Checkout

Set Address Location.
Swipe for payment.

Delivery Address

Add, Delete, and Update Address.
Pick Location from google map.

Settings

Change App Language.
Enable dark mode.
Update user profile.

Notifications.

About Us.

Privacy Policy.
Login & Registration
Home & Menu Side Bar
Product Detail & Categories & Search
Cart & Checkout & Payment
Delivey Address & Account & General Settings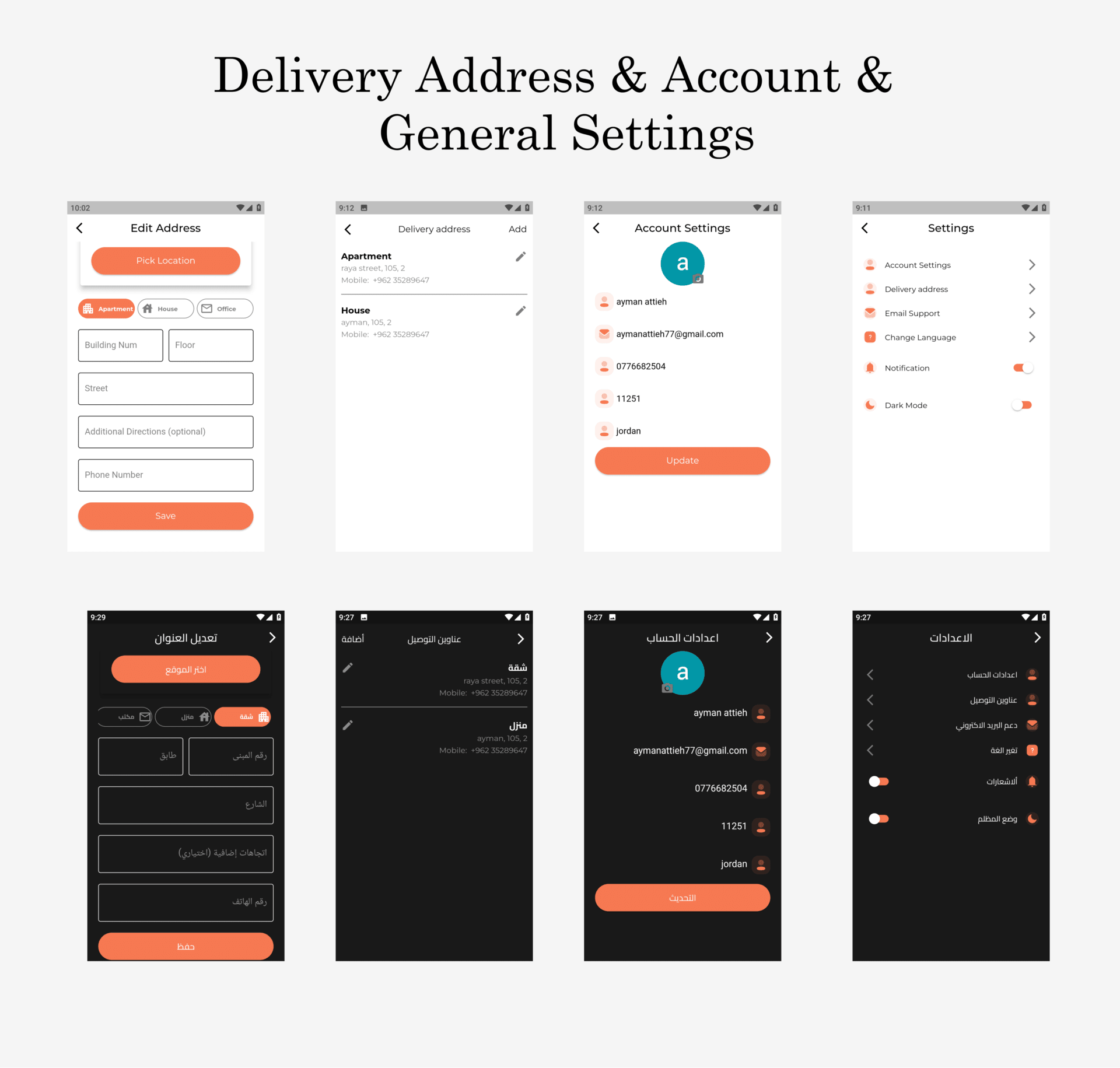 Favourites & About & App Rate
Features and Functionality
User authentication and registration.
RESTful APIs.
Integrated with Firebase Backend.
Stripe Integration for Payment Support.
Browsing and searching for clothing items by category, brand, or price range.
Product details page with images, descriptions, and customer reviews.
Shopping cart management and adding/removing items.
Delivery Address adding / removing /updating Address.
Google Map /get your current Location.
Secure checkout process with payment.
Favorites functionality.
User profile management.
Support multiple language (Arabic, English).
Support dark mode.
Edit Profile Account.
Settings.
Drawer Menu.
Backend

Database system with Firebase Firestore.
User management with Firebase Authentication
Photo storage with Firebase Storage.
Payments with Stripe SDK.
Packages
flutter_svg: ^2.0.6
flutter_bloc: ^8.1.3
get_it: ^7.6.0
firebase_core: ^2.13.1
firebase_auth: ^4.6.2
google_sign_in: ^6.1.3
flutter_facebook_auth: ^5.0.11
flutter_advanced_drawer: ^1.3.5
equatable: ^2.0.5
dartz: ^0.10.1
shared_preferences: ^2.1.2
dio: ^5.2.1+1
retrofit: ^4.0.1
pretty_dio_logger: ^1.3.1
cached_network_image: ^3.2.3
shimmer: ^3.0.0
skeletons: ^0.0.3
flutter_slidable: ^3.0.0
google_maps_flutter: ^2.3.1
geolocator: ^9.0.2
geocoding: ^2.1.0
lottie: ^2.4.0
permission_handler: ^10.3.0
page_transition: ^2.0.9
smooth_page_indicator: ^1.1.0
infinite_scroll_pagination: ^3.2.0
flutter_phoenix: ^1.1.1
internet_connection_checker: ^1.0.0+1
easy_localization: ^3.0.2
fluttertoast: ^8.2.2
cloud_firestore: ^4.8.2
flutter_stripe: ^9.2.2
image_picker: ^1.0.1
firebase_storage: ^11.2.5
flutter_dotenv: ^5.1.0
GitHub